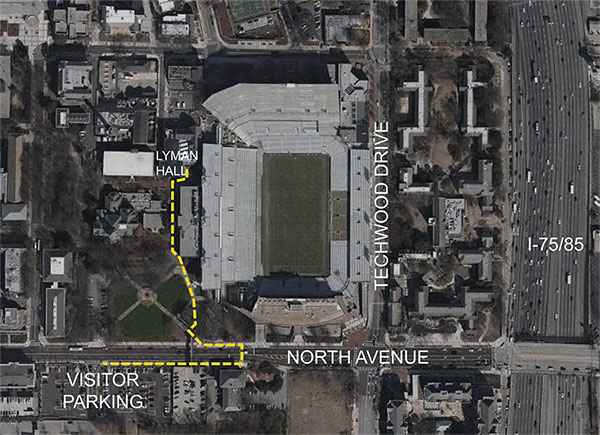 We are located in Lyman Hall, Suite 206 (historic section of campus next to the Tech Tower and Bobby Dodd Stadium).  
Hours:  8am - 4:30pm, Monday through Friday, except holidays.
Phone: 404.385.3085
Please use the  North Ave Visitor's Parking Lot. It is paid parking - $1.50/hour.
Directions: walking from the lot, turn right and walk with traffic to the crosswalk near Alumni House.
- Using the crosswalk, cross North Avenue.
- From the side walk, go up the steps and continue up hill towards the historic Administration buildings.
- Pass between the buildings on your left and the Success Center / Stadium on your right.
- Lyman Hall is directly ahead.
- Real Estate Development is located in Lyman Hall, Suite 206, on the left.
OFFICE ADDRESS
---
Georgia Institute of Technology
Real Estate Development
Lyman Hall, Room 206
221 Uncle Heinie Way NW
Atlanta, GA 30332-0257
phone: 404.385.3085
 
Personnel
---
Tony Zivalich
Associate Vice President - Real Estate
phone: 404.385.2692
Contact
Adrian McCord
Real Estate Leasing Manager
phone: 404.894.3648
Contact
Noriko Walker
GATV Real Estate Manager
phone: 404.385.7012
Contact
Natasha Parker
CODA Real Estate Manager
phone: 678.459.4155
Contact
Vacant
Program Support Coordinator
phone: 404.385.3085
Contact