Technology Square
Opened in 2003, the originally 1.4 million SF Georgia Tech-sponsored innovation district encompasses education, research, hospitality, office and retail and serves as a new urban 'main street' for the campus and the Midtown Atlanta community.  Revitalizing 8 blocks of an area of deteriorated & abandoned buildings and lots, the $380 million project is recognized nationally as a standard of urban development.
A magnet for tech startups and university spinoffs, the area has attracted industry innovation centers from Cisco, AT&T Mobility, Panasonic Automotive, Southern Company, Delta Airlines, The Home Depot, Coca-Cola Enterprises, NCR and ThyssenKrupp Elevator Americas.
Georgia Tech served as the project sponsor and anchor tenant and, partnering with Portman Holdings (Atlanta, GA) and Next Tier HD (New York, NY) who designed, constructed, and financed the project and now own, operate and lease to Georgia Tech and commercial companies. The originally 21-story, $355 million project comprises 755,000 SF of space, including 605,000 office, 93,000 data center, 46,000 retail and 600 underground parking spaces. Georgia Tech is leasing about half the space in the building.
Today, with the addition of the new NCR world headquarters development, Tech Square Labs, and CODA (see below), Technology Square totals to over 2 million square feet of private and public space, with $1 billion invested. 
Quick Facts
 

Total developed area:
1.4 million SF on 8 city blocks
Parking:
Structured parking for 3,000 cars
Project cost:
$380 million
Infrastructure:
New park-like, vehicular and pedestrian 5th Street bridge
New streetscape and roadways
Announced:
2000
Groundbreaking:
Sep 2001
Grand opening:
Oct 2003
5th Street Bridge:
2007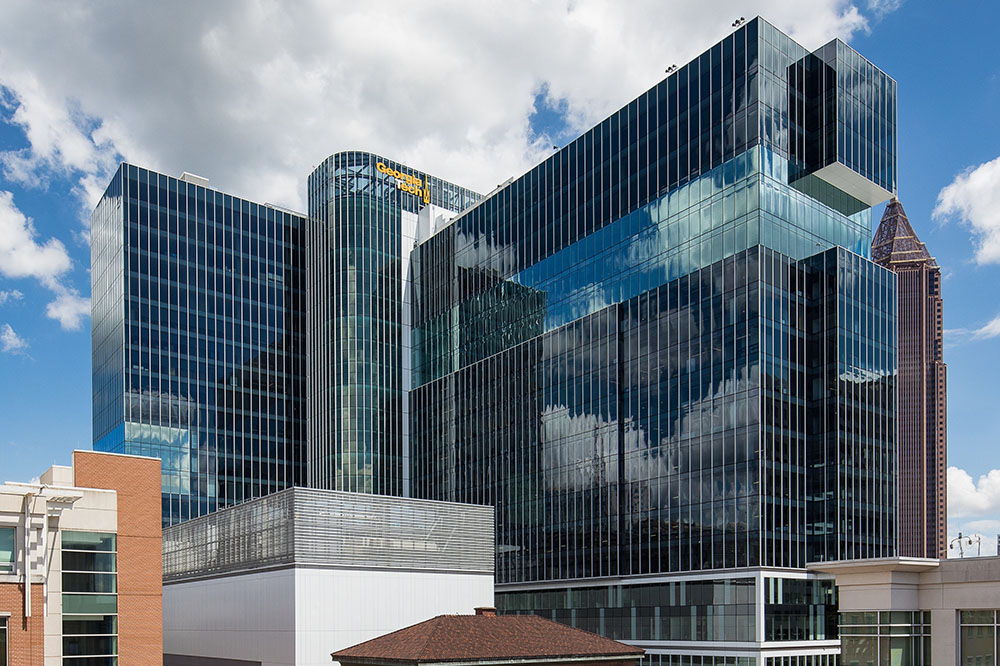 In 2019, Technology Square or "Tech Square" was expanded to include Coda, a mixed-use, computing center and retail complex with 645,000 square feet of office space. Housing private companies, co-working spaces, as well as Georgia Tech researchers, labs, and lecture halls, this sustainability-focused addition to Tech Square serves as a collaborative and innovative hub of Atlanta. 
Click here for more information on Georgia Tech departments located at Tech Square.
On October 21, 2022, Georgia Tech broke ground on the site set to become Tech Square Phase 3, a two multi-story tower construction project that is set to add over 400,000 square feet of research and collaboration space to Technology Square. 
One of the towers is set to house the graduate and executive education programs of the Scheller College of Business (also located in Tech Square), while the second will house Georgia Tech's nationally top-ranked school of industrial and systems engineering. The project will also include outdoor and retail space, as well as onsite parking.
This expansion project is set to be completed in 2026. 
Blank Space (small)
(text and background only visible when logged in)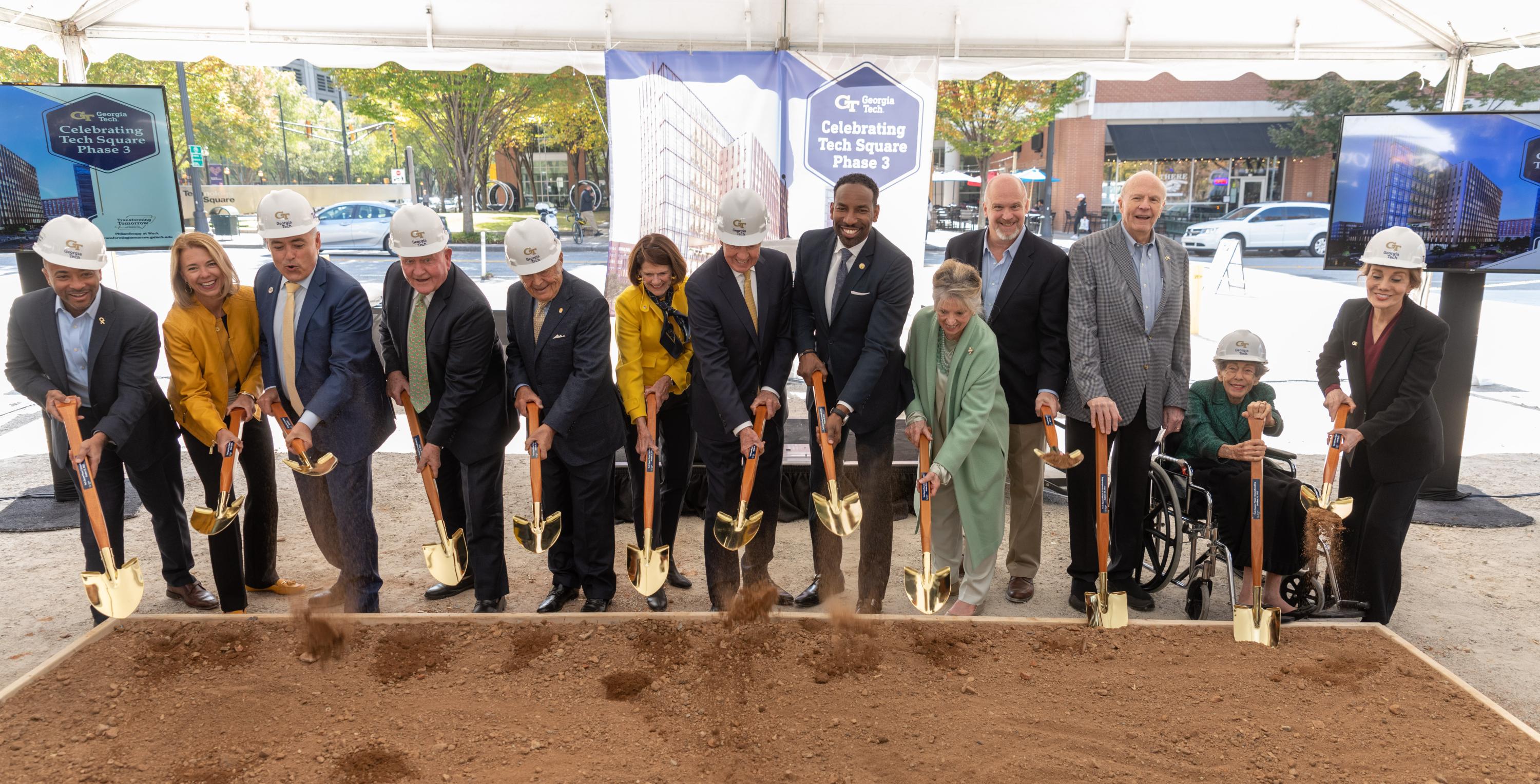 Fifth Street Bridge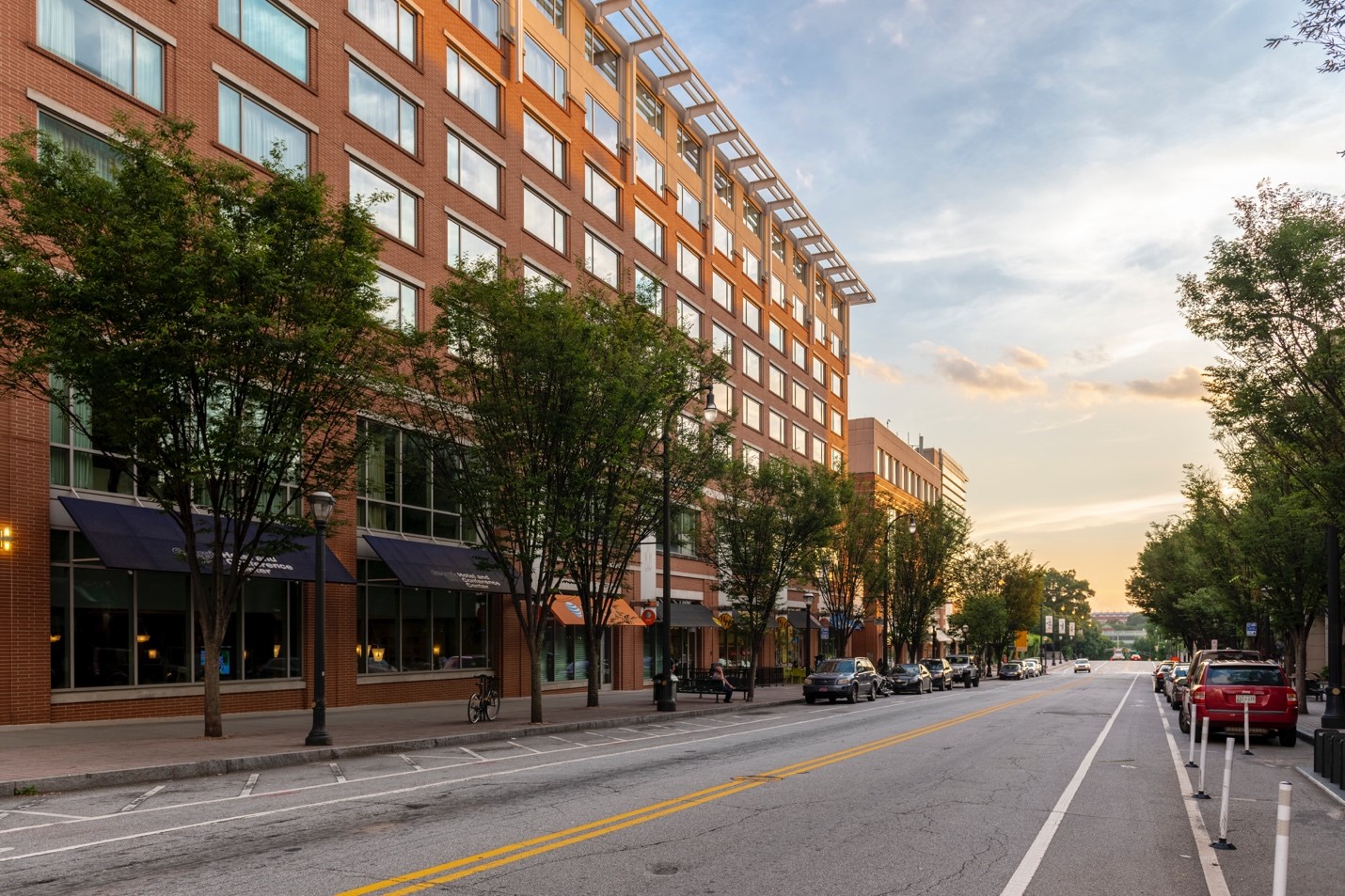 Blank Space (small)
(text and background only visible when logged in)
Connected through Infrastructure
Fifth Street Bridge on Tech Square is a corridor that connects the Georgia Tech campus to Midtown Atlanta. This planned, pedestrian-friendly passage allows for connectivity, community activation, increased mobility, and overall improved campus culture. 
Leasing Inquiries
To Lease Retail Space at Technology Square Contact:  Allison Watkins via email at allison.watkins@gatech.edu  or contact Georgia Tech Auxiliary Services via phone at (404) 385-6615.